Current Tournament Ends in:
NEXT TOURNAMENT STARTS IN:
PGLS TOURNAMENT LEADER BOARD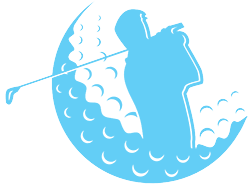 IP ADDRESS
IP: 178.238.231.226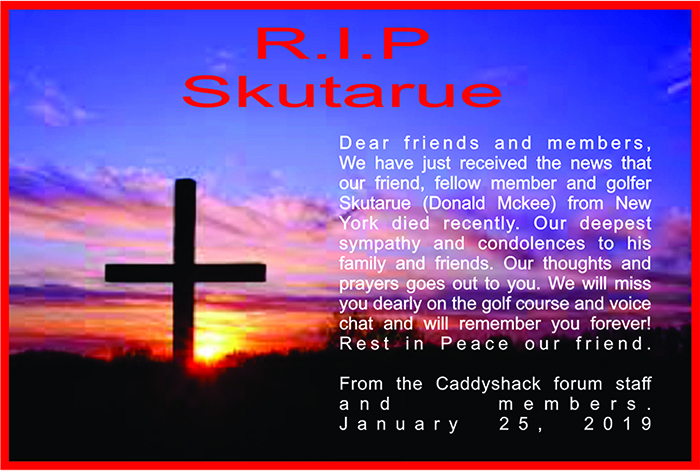 Last edited by Christie on Wed 6 Feb 2019 - 8:49; edited 3 times in total
_________________
Christie Geldenhuys aka OldCroc


_________________
"I Do What The Voices In My Golf Bag Tell Me To Do"

Kevin-G




Posts

: 356


Join date

: 2018-04-16


Age

: 65


Location

: Fremont CA



We are working on a Memorial Tournament for Skut next week.

Waiting for confirmation from Steve for the course selection.

Skut was a New York kinda guy, so Eric's input was Bethpage Black by Justin9926 and my input was Shinnecock by Gary Norman.  Both courses are in New York state.

When the Tournament is set, I will also post in the JNPG main forum to see if anyone aside from Caddyshack folks want to shoot it.

R.I.P. Skut!

Kevin G.

_________________
"I Do What The Voices In My Golf Bag Tell Me To Do"

Kevin-G




Posts

: 356


Join date

: 2018-04-16


Age

: 65


Location

: Fremont CA



I want to thank Skutarue for being my friend and helping me when I first came on PGLS, he
helped me set up my bag with the clubs I needed, also set up all of my setting in my setting folder. I know Donald (Skutarue) had a good heart and really cared for people, my you rest in peace my friend, you will be missed..

HEYHAP

HEYHAP




Posts

: 27


Join date

: 2018-06-04


Location

: Live Oak, TX,



I played at LEAST a couple of rounds a week with him since I started playing this game last June (2018) so this was a little difficult to process.  Skutarue, I hope you RIP my friend.  Thanks for all the little tips you gave me along the way to help me out and I hope you are in a better place now and can play 9,18, or even 36 whenever you want!

UK4LifeBBN




Posts

: 10


Join date

: 2018-05-25



Whitehall-Donald S. McKee, 58 of Poultney Street, passed away unexpectedly on January 24, 2019 at his home.
Donald was born on December 9, 1960 in Glens Falls, the son of the late Donald and Edith (Gallo) McKee.  He was graduate of the Whitehall High School Class of 1979.  Upon graduation he enlisted in the United States Air Force and became an Airman trained as a heavy equipment operator.   He was a maintenance specialist for air strips.
He was a member of the International Union of Operators Engineers #98 where traveled and worked as a heavy equipment operator in Florida, Pennsylvania, and New York.  He also worked on constructing the new Champlain Bridge located in Crown Point, NY.  He was an avid golfer and enjoyed being on his computer and watching football.
Besides his parents he was predeceased by his grandparents Vernon and Jeanette McKee and Martino and Marie Gallo. 
Survivors include his two sons, Jason McKee and his wife Laura, Travis McKee and a daughter Brenna Gallo Eaton and one granddaughter Savannah.  His four brothers; Vernon McKee and his wife Sharon, James McKee and his companion Debbie, John McKee and his wife Amy, Marty McKee and his wife Therese.  Three sisters; Michele Therrien; Jeannette Craig and her husband Steve; Mary Collyer and her husband Kenneth.   Five aunts; Bev McKee, Voila McKee, Florence Pawlaczyk , Mary Hogben and also Lyne McKee, one uncle Richard Harbers , several cousins, nieces and nephews.
Family and friends may call at from 4pm-8pm on Tuesday, January 29, 2019 at the Jillson Funeral Home Inc. 46 Williams Street, Whitehall, NY 12887  A burial with full military honors will be conducted on Thursday January 31, 2019 at the Gerald B.H. Solomon National Cemetery, 200 Duell Road, Schuylerville, NY.
Info on Don, my good friend

Often..Rong




Posts

: 1


Join date

: 2018-06-08



Thank you VERY much Often.

Nicely done.

Kevin G.

_________________
"I Do What The Voices In My Golf Bag Tell Me To Do"

Kevin-G




Posts

: 356


Join date

: 2018-04-16


Age

: 65


Location

: Fremont CA




UK4LifeBBN




Posts

: 10


Join date

: 2018-05-25



---
Permissions in this forum:
You
cannot
reply to topics in this forum